Match 2 of the eighth season of the Indian Super League gave us another 6-goal thriller where Bengaluru FC beat Northeast United by four goals to two.
Jayesh Rane who scored on his debut for the blues shared his thoughts on the game, "It was good scoring on my debut, but I think I gave away easy balls. Scoring gave me confidence, but I think I should work on keeping the ball."
Jayesh was more of a box-to-box midfielder today, unlike his usual number 10 position, "I like to play keep the ball. That's what the coach wants. I like playing in this position, running everywhere. I did lose balls, I will work on it and be better."
"All the footballers want to play in the rain. When it's raining, you'll get more energy to run. It was good for us, and we gave more energy into the game", said Rane when he was asked about the effects of rain on today's game.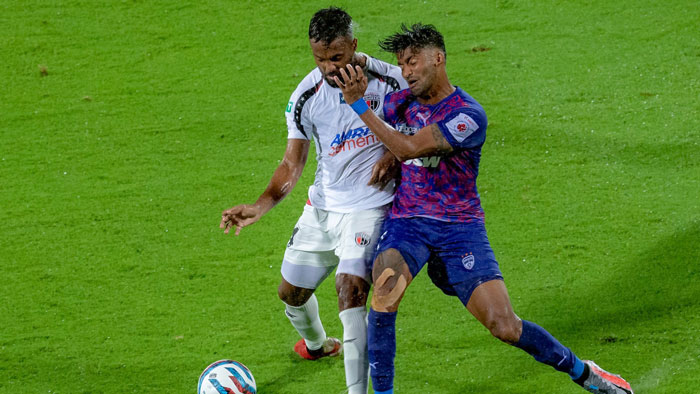 Coach Marco Pezzaiuoli was happy with the win, even though it wasn't perfect.
"It is difficult when you start without playing big games before. When you win the first game, it gives confidence. This wasn't a perfect game, but it still gives confidence".
When asked about the realistic expectations for the blues this season, he said, "Now we are looking game to game. Anything is possible in this league. Many teams can go into the plays offs, we also want to go. It is important to be present in every game and play well. Today the ball possession was not good and defending wise we need to improve a lot. We scored 4 goals and that shows our quality, we have a good offensive squad, and we played really well in the second half".
"King was injured for almost two months. He didn't have a proper pre-season. He was training with medical staff. We have to improve defending, but again the team did well with the offense" said the coach when he was asked about the defense."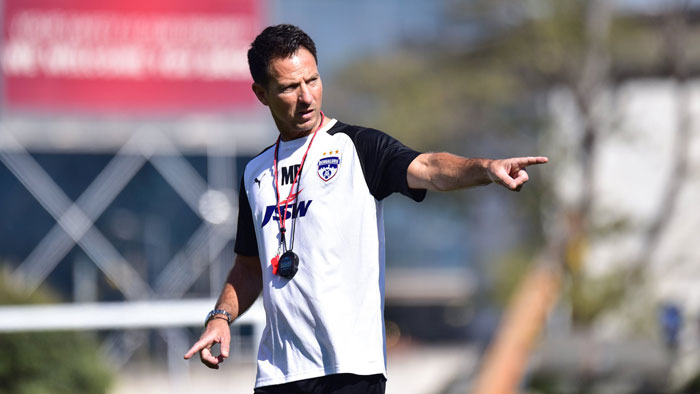 Khalid Jamil, who is the first Indian to coach an ISL club, spoke to the media after a very disappointing start, "It was a very disappointing performance. We have to work hard and get positive results for the next match."
Furthermore, he spoke about the team's poor defense and conceding 4 goals, including an own goal from defender Mashoor Shereef. "Defensively, we didn't work good today. Marking the players was not up to the mark. They also played well, so this is what we are like today."
"We will think about it. We have to regroup and think about it. We have three days", said Khalid when he was asked about playing two foreign defenders in the next game.
The highlanders' Jamaican striker Deshorn Brown, who made it to the scoresheet also shared his thoughts.
"We made some silly mistakes, and it hurt us. Some of those goals could have been stopped, I think our goalkeeper have to be sharper. It's only the first game of the season. We have to regroup again, and hopefully, it will start to get better from here".
"I wish my team was more into the game like how Bengaluru was. We made silly passes and gave away the ball. Such small mistakes could have been avoided. Most of the goals were from our mistake, it's not like they did something phenomenal," said the 30-year-old striker.
"We have to get better. If we continue to play like this, giving away the ball and chasing every day we're gonna die. You can't defend for 90 minutes, you need to keep the ball to breathe a little and bring momentum into the game, but if you keep turning the ball over you'll get punished," he added.
Follow us on TWITTER, INSTAGRAM and YOUTUBE. Join our TELEGRAM Channel.