"Talking about defence you can see it for yourself, that they are doing their best they can and I have very little to do."
The 21-year-old goalkeeper from Punjab, Prabhsukhan Singh Gill has been in top form since making his ISL debut with Kerala Blasters in ISL season 8. Due to an injury, Blasters' first-choice keeper Albino Gomes was replaced by Gill, who sat an entire 2019-20 season on the bench.
Gill, who played seven matches this season, clocked 554 minutes conceded just 5 goals and is now leading the race in the Golden Glove Award with 110.8 minutes per goal ratio. He also has 18 saves to his name till now.
The young Kerala Blasters custodian spoke to Halfway Football in an exclusive interaction.
About Chandigarh FA and coach Harjinder Singh
Born in Ludhiana, Punjab, Gill began his career with the Chandigarh Football Academy later joined the AIFF Elite Academy. He was also part of the Indian U17 squad which took part in the 2017 FIFA U17 World Cup held in India.
When asked about his experience at CFA (Chandigarh Football Academy), he replied, "Football is something that has always excited me even before joining the CFA I always use to play back home. But it totally changed my way of thinking about it when I entered the academy from dieting to training everything was new to me. I never knew back then what it was to play like a professional."
Gill also spoke about training under coach Harjinder Singh, "Talking about training under him, I can say he was one of the best players of his time and I was fortunate enough to get a chance to be trained by him."
On his brother Gursimrat Singh Gill
Prabhsukhan Gill's elder brother Gursimrat Singh Gill, who currently plies his trade for ATK Mohun Bagan is really an influencer for Gill in his life.
This is what he has to say about his 24-year-old brother, "Without any doubt. I can say whatever I am or doing today wouldn't be possible if it wasn't for him. There is not a single moment he stops motivating me or pushing me to do my best."
Covering all bases in the final moments of the game, yet again 💪🏼@SukhanGill01 #YennumYellow #KBFC #കേരളബ്ലാസ്റ്റേഴ്സ് pic.twitter.com/vwMxGQeeOa

— K e r a l a B l a s t e r s F C (@KeralaBlasters) January 4, 2022
'Defender' Gill and reason to choose number 13
In the early days of his career, Prabhsukhan Singh played as a defender – left-back and as centre-back. "Well, this is something I never had intention doing about but this happened back in 2011 when coach Harjinder Singh said that we don't have any goalkeeper plus you have a good height and being tallest in the group you just try it," said the young goalkeeper.
Gill wears the number 13 jersey at Kerala Blasters. We were curious to know why he chose the number. He replied, "When I joined the club, number 1 wasn't available and another reason was that number 13 is meant to be lucky in my religion."
Defeating Argentina U20 team in 2018
On 6 August 2018, India U20 national team defeated the six-time World champions Argentina U20 team by 2–1 where Gill's two saves during the 56th and 61st minutes were crucial in deciding the match.
Gill recalled one of the most memorable moments in his career, "You know there are times when things come only once or twice in a person's life and I guess that day was for me."
"Playing itself was something unimaginable or hard to explain and beating them was stupendous. It has always stuck with me," he added.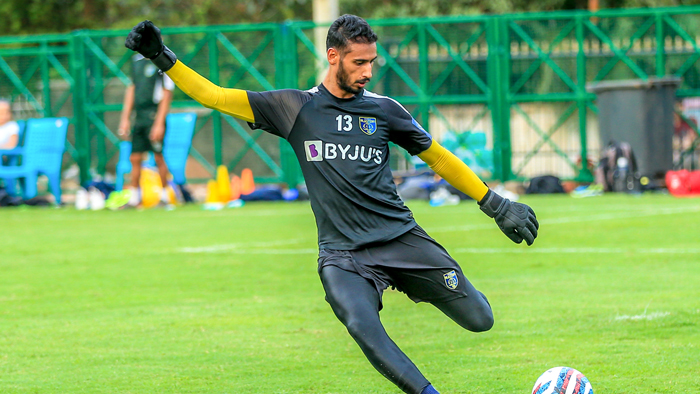 Performance so far this season
"So far, I have played a few good games this season. But personally, I feel I always want to do better and I keep giving my best," said Prabhsukhan Gill.
When quizzed about his goal for this season, he answered, "I want to play as consistently as I can in every match."
Gill also said about his pre-game routines, "It is just a normal day like it would be for any other player. Before the game, I just go over basic things and see what I can use while playing and whatnot."
About Marko Leskovic and the experienced defence
On the pitch, we've observed that Marko Leskovic instructing Gill. He spoke about the experienced Croatian, "Whenever he guides me, I feel like his guidance is always helpful for me in the times when it is needed."
"Talking about defence you can see it for yourself, that they are doing their best they can and I have very little to do," Gill said about the defence.
On goalkeeping coach Slaven Progovečki
Prabhsukhan Singh Gill also expressed his feeling about goalkeeping coach Slaven Progovečki, "It's been only six months with him and I am already feeling the difference in my performance because of his attention to the details."
"Apart from that, he wants the best of me out there which always keeps on driving me to do better," he concluded.
Follow us on TWITTER, INSTAGRAM and YOUTUBE. Join our TELEGRAM Channel.