Kerala Blasters FC started their 2021-22 campaign with a 4-2 defeat against last season's runners-up ATK Mohun Bagan FC.
Coach Ivan and midfielder Adrian Luna addressed the media this evening ahead of their next game against Northeast United FC on 25 November.
Here's what coach Ivan had to say about the last game. "I think we played a good game. We controlled most of the game. We conceded goals, if we can avoid such moments and control the game better we can proceed with our playing style. That's the way I want to play, that's the way I think football, I want to attack, attack and attack. We will try to be more organized for the next game and create chances."
"In football, there are moments where you have to attack and moments where you have to defend. You can go out with a game plan or strategy, but you can't say how the game will evolve or how it will start. In the last game, conceding in the early minutes changed the game. When you are one goal down, you have to play more offensively to equalize. We want to play attacking football regardless of who we are facing", said the coach.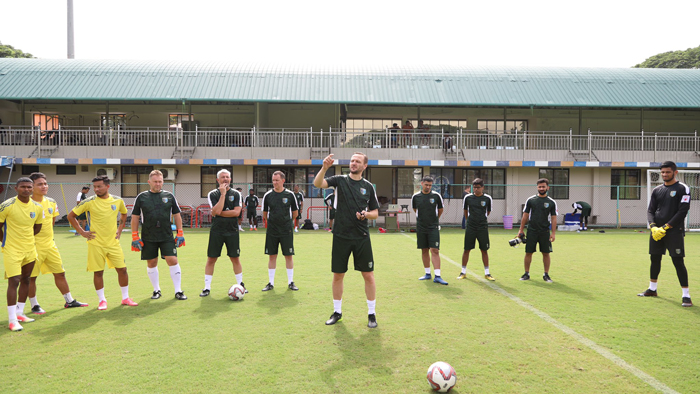 "It doesn't change a lot because we have our objectives, and we'll continue working hard for the things we want. We played quite well in the last game, but we conceded easy goals that too from our mistakes. We will try to avoid such mistakes. This is football, where we've to focus on the next game and not think so much about the past", he added.
When asked if he'd play the two foreign center backs, Enes Sipovic and Marko Leskovic, or trust another young Indian defender Ivan said, "We've all the players available for the next game except Rahul, who is injured. We're pleased with the improvement of some boys. They need time to improve and in the coming games, they will get minutes. They have to start somewhere, at some time. We've all of them available, we'll see today's training and decide how to approach tomorrow's game."
Ivan also spoke about his football philosophy and preferences in the playing style, "I'd rather win 5-3 than 1-0. That's the football I like. The club's objective is to develop young players. When you play offensively, there will be space created at the back, and you will have to deal with the counter-attacks from opponents. I like to play attacking football. I rather score more goals than our opponents than concede less. Our team has the potential to score goals and I want to see them do it."
Ivan Vukomanovic and Adrian Luna | NEUFC vs KBFC | Pre-match Press Conference | ISL 2021-22

Watch Now 👇https://t.co/BDtGCsgU8m#IndianFootball #ISL #NEUFCKBFC #HalfwayFootball #YennumYellow #KBFC pic.twitter.com/SyUXTzOczJ

— Halfway Robot (@HalfwayRobot) November 24, 2021
KP Rahul got injured in the first half after setting up Sahal's goal, and he will be out for a few weeks. Here's how Ivan plans to cope with the injury of an important player. "We have enough players to play in every position. They have quality and that's why they are here. Like I said, the club's objective is to develop young players not just for now but also for the future. We'll mix and match to find a combination that can bring good results."
Defender Bijoy started ahead of experienced center-back. It was Bijoy's first game in a top-tier league, "Not only Bijoy, but we also have Vincy, Ayush, Givson. All of them are young and they have potential. In the last few pre-season games and training, they gave me the confidence that they are ready to start. It's a fact that he never played on that level, but these boys have to start at some point that's how all the players did, that's how Adrian and I started. He played a good game apart from some mistakes. Sometimes it's good to commit mistakes so that you learn from it."
After the last game, there were questions on why Jeakson was the lone defensive midfielder against an attacking team like ATKMB. "Whoever is your opponent in football, you will always be in a 1v1 situation. Jeakson has difficulty in facing Adrian at training. They have to get used to these kinds of things. We want to push the boys to a certain limit so that they'll become better."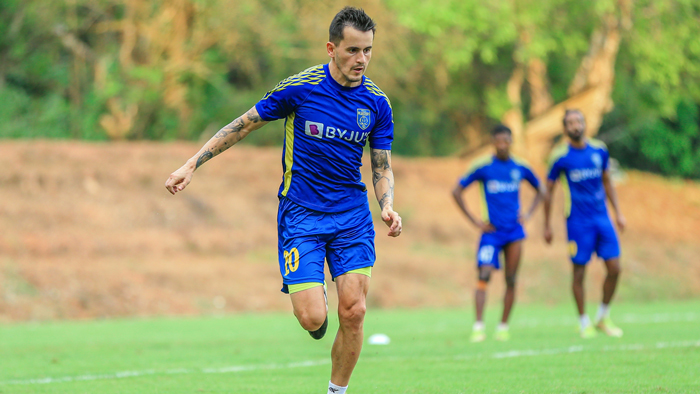 Luna, who had a great game individually, creating a few chances and assisting Diaz, shared his thoughts on the league and his debut. "They are similar because there are many transitional moments. I think the A league is more physical than the ISL. We have to control the game to win not just for us but also for the fans. I think we are doing it right, we just have to improve."
"We had a pre-season which was three months long, but that is not enough to entirely understand the players and know your teammates", said the 29-year-old midfielder when he was asked about adapting to the team and bonding with the players.
When quizzed about his preferred position, Luna said, "I just want to play. I don't care at what position. I, personally, prefer playing behind the striker because I'll have more freedom there but if I had to play as a keeper to help the team I am ready to do that."
KBFC will face NEUFC in the next game at the Fatorda Stadium on 25 November.
Follow us on TWITTER, INSTAGRAM and YOUTUBE. Join our TELEGRAM Channel.