Kerala Blasters will be looking for their first victory of this season against Bengaluru FC. Kerala Blasters played a goalless draw in their second game against NorthEast United.
Blasters' coach Ivan Vukomanovic is not bothered by the rivalry between the blues and blasters. He sees tomorrow's game as an ordinary one and wants the team to focus on what they want to achieve.
"It's just a football game. Some games have a few spicy things in them, like in this case. For us, the players, and the coaching staff it's just a game and the approach is always the same. We've to focus on the things we want to achieve on the pitch. There are no signs of any pressure."
Kerala Blasters created multiple chances but failed to score in the game against Northeast United FC. "No, because such things happen. We talked to the players. These things can happen during games. During training sessions, you repeat them 10 or 20 times. We are working on them. I am not frustrated. I firmly believe in these guys, they are good and will get better," said the Serbian.
.@ivanvuko19 and @harman_khabra | BFC vs KBFC | Pre-match Press Conference | ISL 2021-22

Watch Now 🔽https://t.co/Azfe5qBAgM#IndianFootball #BFCKBFC #ISL #LetsFootball #YennumYellow #KBFC #KeralaBlasters #HalfwayFootball pic.twitter.com/teKPiraMge

— Halfway Football (@HalfwayFootball) November 27, 2021
The Blasters played their last game two days ago against Northeast United and are preparing to face Bengaluru tomorrow with just two days in between to recover.
"I don't like to use such things as an excuse. We are a football team and for the players, it's their job to recover and the coaching staff and medical staff are doing everything possible to recover the team to be ready for the game. Such things happen even on the highest level. We will be sharp and be ready for the game tomorrow," said the head coach on the less time to recover between two matches.
In the game against Northeast United, Vukomanovic decided to field two foreign centre backs unlike their first game against ATK Mohun Bagan FC. When quizzed about the same, Ivan replied, "Without a second central defender, we brought more balance in our defense which gave us confidence. We have six foreigners available, but we all know only four can be on the pitch. Tomorrow we'll try to have a good balance in both defense and attack. We think we'll have a good team."
Bengaluru FC are experts in converting their set pieces to goals. Here's how Coach Vukomanovic plans to deal with that.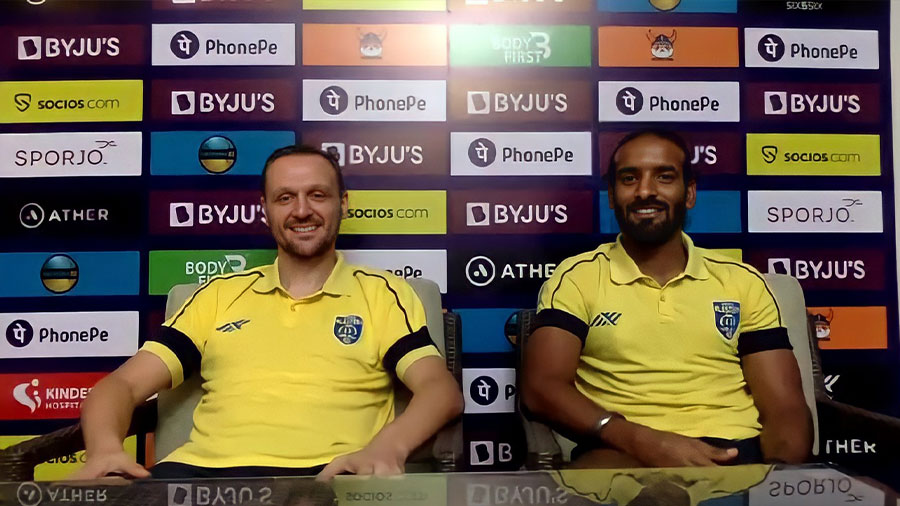 "In the previous seasons, many goals in the ISL came from set-pieces. These things happen everywhere, and every team has to work on that. We will also work on that and try not to concede. We know that our opponents tomorrow are good with set pieces, we'll try to defend and try not to concede."
Coach shared his thoughts on Jeakson Singh. The young defensive midfielder individually had a good game against Northeast United FC., "Jeakson is a good player with potential. He has to improve. He still has a huge margin of progression. Jeakson, Sahal, and Rahul missed most of the pre-season period because they were with the national team. They are working hard to get better. I am happy with all the boys because they improved a lot."
The Blasters' defense was cautious not to concede in the previous game against Northeast. This is what Harmanjot Khabra had to say about it, "In the first match we conceded early, and it put a lot of pressure on us, so we were cautious, and we wanted to get a clean sheet. We had more chances to score, if we had scored, the result would've been different. The whole team defended well, and we have to carry on like this."
Khabra, a former blue, shares his perspective on the game against his former side. "Let's not make this complicated. They have a healthy rivalry. I want to avoid creating any hype. This is just another challenge, and we should try to get points. We'll just stick with the coach's plans and tactics."
Khabra was also quizzed about the situation in the dressing room.
"We are very positive in the dressing room. The players are in a good mood, and they know their responsibilities," the veteran said.
Follow us on TWITTER, INSTAGRAM and YOUTUBE. Join our TELEGRAM Channel.