"Training here in India is very methodical."
Travis Major, one of the most dangerous National Premier League NSW forwards, will be a player to keep an eye on in this I-League season.
The 32-year-old striker started his youth career with Blacktown City, where he also spent a significant part of his career. With his extensive experience playing for clubs in Hong Kong and his homeland, Australia, there is no doubt that Major will add to RoundGlass Punjab FC's attacking strength.
To read extracts from Halfway Football's exclusive interview with Travis Major, scroll down.
How did you get started in football?
I started playing football when I was about five years old. I began playing for a school team back then called the Falcons, which was just a local side in Western Sydney. When I was nine, I had my first experience of playing representative football, this time for an under-11 age-group team.
Was your move to RoundGlass Punjab FC something that happened out of the blue?
Yes and no! A couple of months before the transfer happened, my friend Sean Rooney, who had played for Ashley (Head Coach Ashley Westwood) earlier at Bengaluru FC, asked me if I would be interested in playing in India. At the time, I was positive but was still feeling things out and looking at other options as well.
I again received a call from Sean after some time, asking me about my interest in joining RoundGlass Punjab FC, and I said 'Sure!'. After that, Ashley rang me up and spoke to me about this opportunity. I asked my partner, and she was very supportive of this move as well. It gave me a chance to go overseas and do what I love. Everything pretty much happened within the next 48 hours and it was sealed!
Who were some football role models you looked up to when you were coming up?
To be honest, I did not have too many role models growing up. The whole time I was playing football as a youngster, I was playing tennis at the same time too. I watched football but there wasn't any player in particular that I took to or felt that my style related to them.
I played in many positions as a young footballer, and initially, wasn't very quick or strong. However, it all turned around in a couple of years and my game evolved from that. There was no one person I tried to emulate because I didn't feel my style was similar to any player in that respect.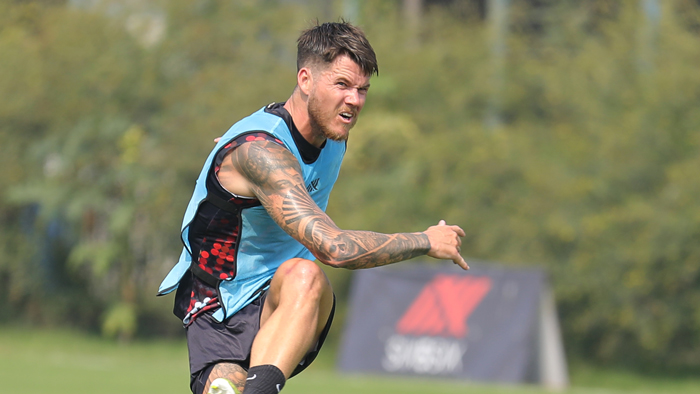 Sean Rooney, your teammate, and friend at Blacktown City played in the I League under Ashley Westwood. Did you have any chat with him before joining RGPFC? If yes, what were his responses?
As I said before, Sean played a massive role in making this move come through and there was no chance this transfer would have happened without him being involved. We had talked about his past experience in India, where he had told me about Ashley a few times and had spoken very highly of him.
When this opportunity to sign for RoundGlass Punjab FC came around, he explained how this chance will be good for me and the Head Coach will get me as fit as I've ever been. Ashley likes high-tempo attacking football, which is how I enjoy playing as well.
Talking to Sean, all the boxes regarding things I look for were getting ticked. I was also told that Ashley is all for his players and he has shown nothing but that since I have been here.
How was your experience training in India so far? How different it is from Hong Kong?
Training here is very different from Hong Kong. There, I went through a lot of coaches in a short span of time, so it was hard to get some continuity with a single coach.
On the other hand, training here in India is very methodical. Every session is accounted for, and everything is done for a specific purpose. It's all quite meticulous. We work and train hard by doing all the right things to keep our bodies at 100 percent levels.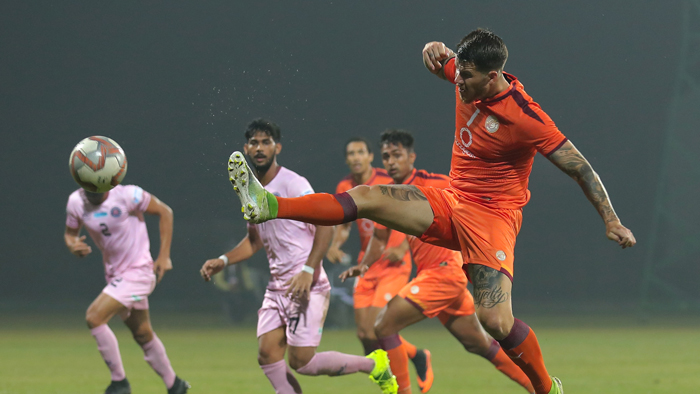 What's your take on the coach Ashley Westwood?
So far, Ashley has been everything that Sean told me he would be. He's a good man-manager and wants the best for us. He is quite meticulous and thorough with his planning. We had a pre-season of almost three months from October to December, where every session was done with a specific purpose in mind. It feels good to come into a team where you know that everything you are doing is well accounted for.
He is a straight shooter as well. If he thinks you're not putting enough effort or not doing something the way he wants, he will call you out on it. It is good to have someone who will be straight-up with you and at the same time, keep you inspired.
What are your expectations for the upcoming season? What do you want the team and yourself to accomplish this season?
A lot of people come in and say that they want to do their best. However, I have come in here expecting to win and compete for the I-League trophy. We want to play a progressive brand of football that our fans can be inspired by, and we hope to make them proud with our performance.
Everyone wants to do everything we can for the team. It doesn't matter who scores the goals or who sets them up. If we all do our jobs well, we have a squad that can fight for the title. 
Follow us on TWITTER, INSTAGRAM and YOUTUBE. Join our TELEGRAM Channel.