"The pre-season made a lot of problems. No friendly games, not enough time to train with the team," said the Hungarian coach.
Former Chennaiyin FC Head Coach Csaba Laszlo spoke exclusively to Halfway Football about his experience in India, about the league and the bio-bubble last season, the players, and much more.
With experience as a manager for over a decade and a half, he joined ISL club Chennaiyin FC last season, but his tenure with the South Indian club did not go well as expected as they finished eighth in the table.
Speaking about his experience in India Laszlo replied, "My Experience in India was positive. A great country with beautiful, friendly people. I miss the country." When asked about returning to India in the future when an offer is on the table, he said, "Yes. If I get an offer, I will consider it seriously."
The 56-year-old has managed teams in nine different countries including India and two National teams – Uganda and Lithuania. "My toughest job definitely was at Chennaiyin FC in India, due to the bio-bubble and lack of preparation time for the season," quoted Csaba Laszlo.
He further said about the bio-bubble and about a shorter pre-season that affected the team, "The bio-bubble was well organized, the problem was not with the organizers. The pre-season made a lot of problems. No friendly games, not enough time to train with the team. Particularly, this affected me to know the team better and to put in my ideologies of football from the beginning."
The former Dundee United manager praised the domestic players of the club, "Chennaiyin FC has very good and talented players. It's not fair to just talk about one or two players. Vishal (Kaith) is a very good goalkeeper. Edwin, Thapa, and Chhangte are very talented Indian players. Rahim Ali and Deepak Tangri are the new coming footballers of the country."
When asked about the selection of foreign players last season he said Chennai was missing players in the offensive department, "I don't want to talk about the club's internal matters because it is not fair and this is a very sensitive issue. My direct answer is that we were not effective in the offense. We created many chances but we failed to score."
"Early injuries of Thapa and Crivellaro affected our game in the attacking zone, we didn't manage to find replacements for them," he added. He also asserted that it is very difficult to compare the culture and football system in India and other European countries he has managed due to the league being conducted inside a bubble, "Generally, it's very bad that the league is very small, just six months long after that a long holiday. This is against the development of football."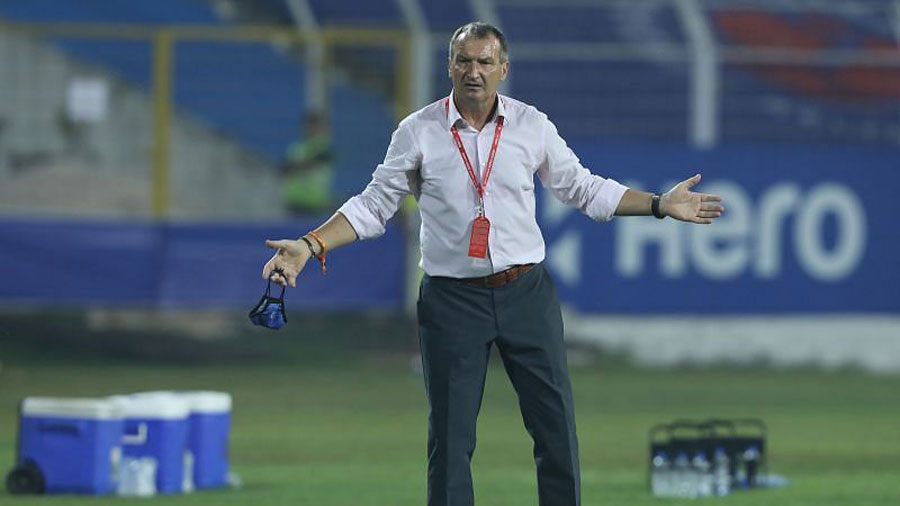 But he thinks football in India is in a developmental stage, "Yes football in India is developing but to be honest after just six months of the season, it is not fair to be talking about this. I think the responsible people know what they have to do, they have to be quick and be focused because India has a big potential in talented football players."
Further, he also spoke about the toughest opponent he faced last season in ISL, "Every single opponent was the same for me. The most painful game was against Hyderabad because we lost two games in which, one the team deserved a better result."
When asked about his future plans and offers from any clubs he said, "Unfortunately, my negotiation with one Belgian club doesn't work out how I wanted, and actually, I'm in contact with one club and a Football Federation."
The Hungarian coach concluded with a message to the fans in India, "The fans are very passionate. I missed them in the stands because we were forced to play in closed stadiums. My message to every Indian football fan including Chennaiyin fans too is that football is a beautiful game and without fans, it is not the same. Every victory makes us feel proud and after losing a game we can show that we belong to each other and it helps to stand up together."