"Indian football, of course, is improving. Good foreign players are coming to India to compete. The match competition here is at a higher level."
After a disappointing season, Odisha FC has undergone a major overhaul on and off the field. With David Villa and the DV7 group becoming part of the club, Odisha FC will be aiming to cement their spot in the higher ranks of the league.
Odisha FC has a new set of foreign players and coaching staff. Experienced Spanish manager Kiko Ramirez was appointed as the head coach.
Assistant Coach and the Head of Football Development of Odisha FC, Joaquín "Kino" García Sánchez spoke to Halfway Football in an exclusive interview and was very optimistic about the season ahead. Here is what the UEFA Pro Licensed coach has to say about his career, on Indian football, on the preparations for the season and more:
About his football career
"I haven't been a professional football player. I have played football, of course at young ages also played in the fifth division in Spain. So, I don't have much to talk about my experiences as a football player," said Kino Garcia.
When asked about his coaching career, he said, "I started coaching a lot of years ago, at younger ages for different teams in my city, Valencia. After that, I joined the Academy of Valencia CF, I coached different players who are now playing for the first team and other professional clubs. Then, I moved to Levante in the first division of women's football in Spain for several seasons. We achieved the record of being third behind Barcelona and Atletico Madrid in the first division. I was also the Academy Director of Valencia CF in Seoul, South Korea."
He also added about the challenges he faced during his career, "When I started coaching, it was really difficult. Then, when I joined Valencia, I wanted to prove. We won trophies with Valencia and also Levante. Now, we have a challenge ahead of finishing the ISL in the best possible position."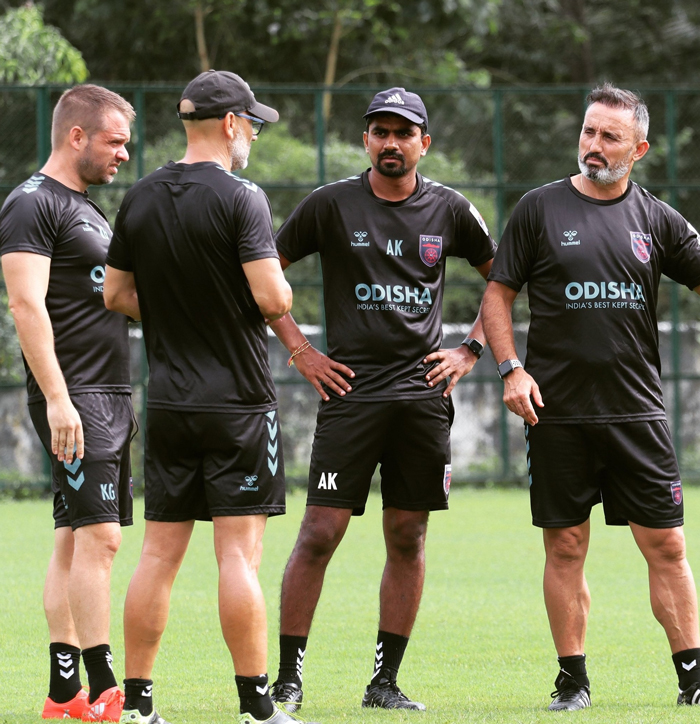 About young Indian players and Indian football
Odisha FC has one of the youngest Indian squads in the league. The Spaniard shared his opinion on the young players, "They have good quality. One of the main problems in countries of Asia is that we need more tournaments because competing helps players to understand how they have to behave on a football pitch. Training is good for technical and tactical improvements, but we need to compete and understand how is the game. Young Indian players really want to improve, learn and they are committed to training and this is something really good for the coaches."
"Indian football, of course, is improving. Good foreign players are coming to India to compete. The match competition here is at a higher level. Having seven Indian players on the pitch is good for developing young players," he also spoke about Indian football.
Kino has also shared his impression of the Indian national team, who recently won the SAFF Championship, "The Indian National team had success in the International tournament winning against Nepal. It's good for the country and the young players. Also, the U23 team is performing well. As many matches the national team plays, it will be better for their development."
India and Indian Super League
ISL is conducted inside a bio-bubble in Goa and the players and coaching staff have to follow a strict Covid protocol. Despite being not able to visit any other places, Kino hopes to continue his stay in India, "As a country, I liked the food, the people. We cannot see much because we are in the bio-bubble. It's a nice country and I hope that I can stay here more time and visit different states."
Indian Super League has been home to several Spanish players in recent years. This season also, among the foreign players, Spain has the highest representation. Kino spoke on the same, "I know Josep Gombau (former Odisha FC coach), he's a friend of mine. Since he was there with Odisha, I was following the league and the players. Also, in this competition, we have a lot of Spanish players."
"Because of these Spanish managers and players, I was following the league. For Spanish people, they don't know much about this competition," he added.