Indian football is on the verge of a ground-breaking transformation as Minerva Academy, renowned as "the factory" of Indian football, announces the launch of its residential program at the prestigious Bengaluru Sports Authority of India (SAI) facility. With a vision to nurture and develop young talents, Minerva Academy aims to revolutionize football training in the country by offering a unique combination of regular training and a cutting-edge residential academy.
Minerva Academy has gained a formidable reputation for producing exceptional football players who have gone on to represent India at various levels. The establishment of a branch at the Bengaluru SAI facility is a strategic move to tap into the vast talent pool in the region and provide an ideal environment for aspiring footballers to flourish. The newly introduced residential program at the Bengaluru SAI facility offers a comprehensive training curriculum that covers technical skills, tactical awareness, physical conditioning, and mental resilience. The program aims to cultivate well-rounded individuals capable of competing at the highest echelons of the game, both domestically and internationally.
Former Minerva players, Anwar Ali and , who have directly experienced the impact of Minerva Academy, shared their perspectives on the launch of the residential program and its significance for Indian football.
Anwar Ali, a highly promising defender who represented Minerva Academy before making his mark in Indian football, expressed, "Minerva Academy played a pivotal role in shaping my football career. The residential program at the Bengaluru SAI facility will provide an exceptional platform for young talents to refine their skills, receive top-notch coaching, and immerse themselves in a professional football environment. I firmly believe this initiative will make a substantial contribution to the development of football in India."
Jeakson Singh, an integral part of the Indian national team and a Minerva alumnus, added, "Minerva Academy is rightly referred to as 'the factory' of Indian football due to its consistent production of talented players who possess the necessary skills, discipline, and determination to excel. The establishment of the residential program in Bengaluru will undoubtedly create more opportunities for young footballers, granting them access to world-class facilities and expert guidance. I am confident that this venture will nurture future stars of Indian football."
Recognized for its meticulous approach to player development, Minerva Academy not only focuses on technical proficiency but also places great emphasis on instilling discipline, fostering teamwork, and nurturing the right mindset. The academy's coaching staff, comprising experienced mentors and renowned football professionals, ensures a holistic approach to training, creating an environment conducive to overall growth.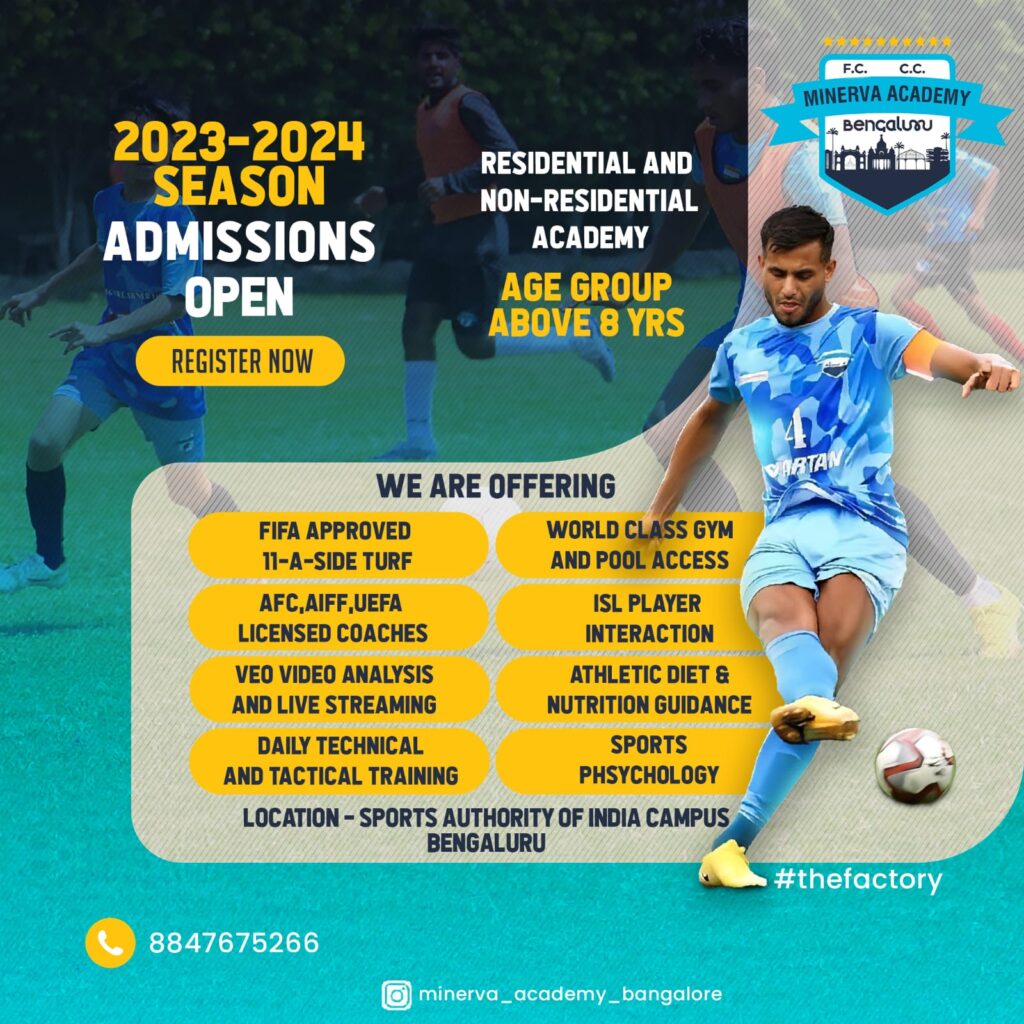 "The factory" of Indian football, as Minerva Academy is affectionately known, owes its reputation to the remarkable success of its graduates. Players such as Jeakson Singh, currently excelling in Indian and international leagues, and Anwar Ali, who has represented India at the U-17 level, serve as shining examples of Minerva Academy's commitment to producing top-quality talent. With the launch of the residential program at the Bengaluru SAI facility, Minerva Academy aims to replicate its proven success by providing aspiring footballers unparalleled opportunities to unlock their potential. The academy's vision of transforming Indian football by nurturing young talents has garnered resounding support from players, coaches, and enthusiasts alike.
The residential program at the Bangalore SAI facility offers training on an 11-a-side FIFA-approved turf, providing an ideal setting for young footballers to develop their skills. Set within a vibrant sports environment, the facility encompasses gym sections, classroom sections, and video sessions to enhance the overall learning experience. The academy boasts a team of AFC, AIFF, and UEFA licensed coaches who bring their expertise and guidance to the training sessions. Daily training sessions, tactical training, and an athletic diet further contribute to the comprehensive development of the players. To facilitate in-depth analysis and performance evaluation, Minerva Academy utilizes Veo, a cutting-edge video analysis tool, which enhances the training process and aids in refining the players' performance.
We interviewed Mr. Ranjit Bajaj, the Director of Minerva Academy, to gain his insights on the launch of the residential program at the Bengaluru SAI facility. Mr. Bajaj expressed his enthusiasm, stating, "We are thrilled to expand the horizons of Minerva Academy by establishing a residential program at the prestigious Bengaluru SAI facility. Our goal is to provide young talents with a nurturing environment where they can grow both as footballers and individuals. We firmly believe that this initiative will contribute significantly to the development of Indian football and produce a new generation of skilled and dedicated players who will make the nation proud." Mr. Bajaj's vision and dedication to fostering football talent have played a pivotal role in shaping Minerva Academy's success story.
Aspiring young footballers can now dream of honing their skills under the expert guidance of Minerva's coaches while benefiting from world-class facilities and a residential program that fosters holistic development. India's football landscape is poised for dynamic transformation, and Minerva Academy is set to play a pivotal role in shaping the country's future football stars.
For admissions, please contact +91 8847675266 or email Minervaacademybengaluru@gmail.com.
Follow us on TWITTER, INSTAGRAM and YOUTUBE. Join our TELEGRAM Channel.