The Esports Association of Kerala (ESAK) is proud to announce that it has partnered with Infinitus, Sportown, and ESPO to host the first official ESPO eLeague under the Esports Federation of India (ESFI). The tournament will take place at Lulu Mall Trivandrum on May 27 and 28, 2023.
This tournament marks a significant milestone for the esports community in Kerala, as it showcases the growing popularity and recognition of competitive gaming in the state. Esports, or electronic sports, has gained tremendous momentum worldwide in recent years, captivating millions of passionate gamers and spectators alike. In India, esports has seen a remarkable surge in popularity, with a rapidly expanding player base and a thriving community. Recognizing the immense potential of esports as a legitimate sport, the ESFI, ESAK, Infinitus, Sportown, and ESPO have come together to organize this prestigious tournament in Trivandrum, Kerala.
Kerala, known for its rich cultural heritage and love for sports, has long been an advocate for nurturing talent and promoting various sports disciplines. With its inclusion in this ground-breaking initiative, Kerala aims to harness the power of Esports and provide its talented gamers with a platform to showcase their skills on a national level.
The tournament, designed for players aged 18 and above, will be played on PlayStation 4, captivating both players and spectators with thrilling gameplay and fierce competition. The event will feature a limited number of 64 participants, ensuring an intense and highly competitive environment for the players.
Aspiring professional gamers will have an exceptional opportunity to shine in this tournament, paving their way towards a career in esports. Being a professional esports player brings numerous advantages, including the chance to compete against top-tier talent, access to lucrative sponsorships, and opportunities for international recognition. Additionally, esports offers a sense of community, teamwork, and personal growth, fostering essential skills such as strategic thinking, communication, and perseverance.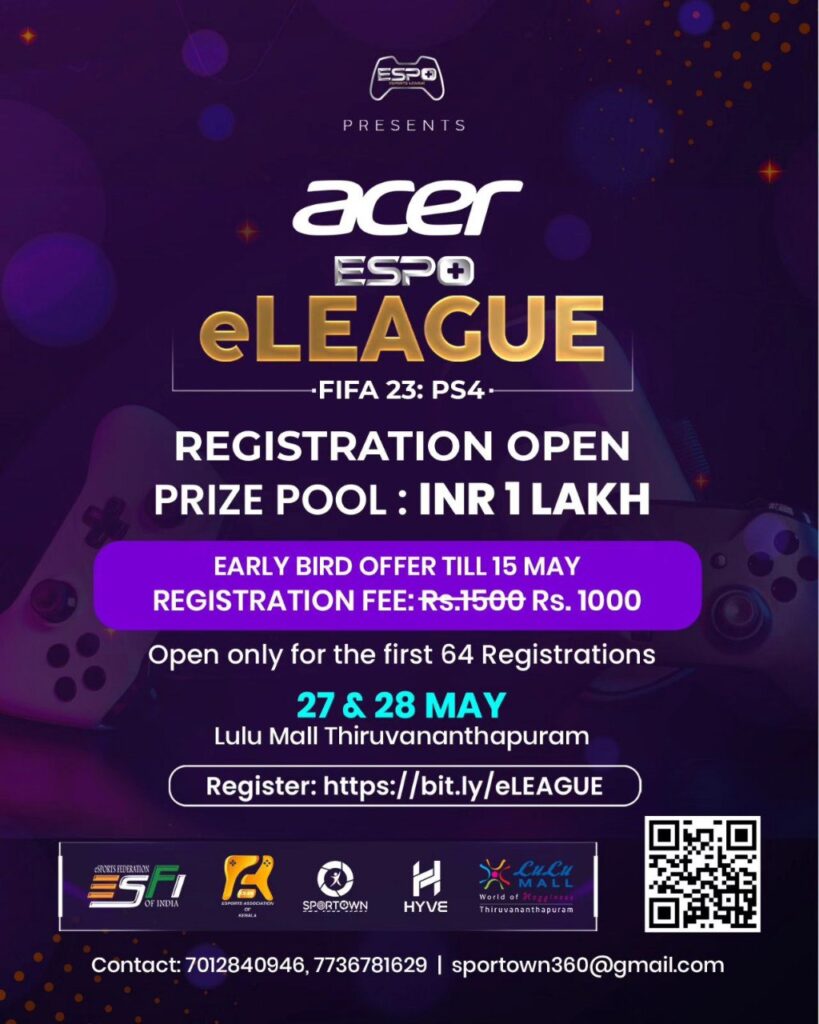 The ESAK, Infinitus, Sportown, and ESPO are committed to delivering a well-organized and unforgettable Esports experience. Participants and spectators can expect state-of-the-art facilities, expert tournament management, and an electric atmosphere that celebrates the spirit of Esports.
Acer India has come on board as the Title Sponsor of the ESPO eLeague. Hyve will be the Jersey Partner, and Hama India will be the Peripheral Partner.
Acer India is a leading manufacturer of consumer electronics and IT products. The company has a strong presence in the Indian market and is known for its innovative products and cutting-edge technologies. Acer India's sponsorship of the ESPO eLeague is a testament to the company's commitment to esports and its belief in the potential of the industry.
Hyve is a leading provider of esports jerseys and apparel. The company has a wide range of products to choose from, all of which are designed to provide gamers with the best possible performance and comfort. Hyve's sponsorship of the ESPO eLeague will help to ensure that participants in the tournament look their best while they compete.
Hama India is a leading provider of computer peripherals. The company offers a wide range of products, including keyboards, mice, headsets, and webcams. Hama India's sponsorship of the ESPO eLeague will help to ensure that participants in the tournament have the best possible tools to compete at their best.
Follow us on TWITTER, INSTAGRAM and YOUTUBE. Join our TELEGRAM Channel.