'Unimaginable' is the word that perfectly fits NorthEast United's ISL 2020-21 journey. Hadn't it been for that missed penalty NEUFC could have played their maiden ISL final and who knows, could have won their first major title. This being said, Halfway Football takes a look at what NorthEast United FC could offer us this season.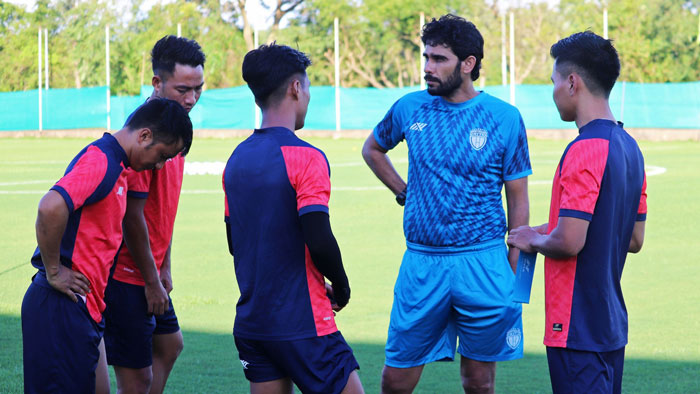 Head Coach and Preferred Formation
There's eventually no need to brief how good Khalid Jamil has been in India rather it be in I-league or ISL.
In the 2016–17 I-League season, Jamil took over the job of Aizawl FC who were supposed to be relegated the previous season but had reached the Federation Cup final, and due to the Goan clubs withdrawing, they were reinstated on public demand as they had played an attractive attacking brand of football. Aizawl became the league Champions under Khalid Jamil and Aizawl FC scripted history, becoming the first club from Northeastern India to win the top-flight league of Indian football.
The first-ever Indian head coach in the Indian Super League, Khalid Jamil used 4-3-3 formation last season. This time also, he might continue the same.
Foreign Contingent
The core is intact with Federico Gallego, Khassa Camara and Deshorn Brown who played a major role in finishing in the top four last year. Despite Lambot, Dylan Fox and Machado leaving, NEUFC has replaced them with equally matched foreigners like Hernan Santana, Flottman and Mathias Coureur.
Strengths
The team despite having some major overhaul looks good in their goalkeeping and attacking departments with Subhasish Roy Chowdhury, Mirshad Michu and Sanjiban Ghosh. Attack contains the names of impactful Indians among them with the likes of VP Suhair, Danmawia, Chara, Imran Khan who will try to replicate the same form this time around.
Also, having enough Indian options in the forward and midfield departments gives stability in those departments.
Learning from the best! 👨‍🎓#StrongerAsOne pic.twitter.com/CRJ4raLyDQ

— NorthEast United FC (@NEUtdFC) November 6, 2021
Weaknesses
NorthEast United this time around has some underlining weaknesses majorly after the departure of some crucial players like Apuia, Lambot, Fox, Ashutosh and Machado. Adding to their worse, the injury of Emmanuel has also come as a blow for them.
It would be quite interesting whom Khalid Jamil will prefer as centre-back duo as they have some limited experience options. We could see either Mashoor linking up with Hernan, seeing the performance of both in the previous edition of the ISL.
While their still to be seen Who will catch up with Apuia's place. Imran could be an interesting option for the coach to mold. Questions will still be unanswered until the new season kick-offs.
Final Verdict
The team has quite a good few youngsters and has its own cons. It would be interesting to see what Khalid Jamil does with the young potent squad. Comparing the squad with other teams, NEUFC lacks the quality to be in the top four. Maybe a finish above 7th or 8th in the table will be a great achievement. 
-Nilesh Pandey
Follow us on TWITTER, INSTAGRAM and YOUTUBE. Join our TELEGRAM Channel.