The defending champions not only come in ISL with a huge task to defend the ISL Shield and Trophy after Lobera's Departure Des Buckingham appointed as the coach will have a huge task to maintain a highly talented Indian core. Some high buzz signings and departures as we look into briefing of Mumbai City FC.
Head Coach
ISL Champions Mumbai City FC will have a new coach on the sidelines this season in Des Buckingham. The former Melbourne City FC assistant coach was appointed as Mumbai City's new head coach recently.
In 2017, he returned to England to serve as the assistant coach of Stoke City's U23 team. He guided the club to an eighth-place finish in Premier League 2's second division. He, then, returned to Oceania as the new manager of the New Zealand U20 team. It was under his tutelage that the team reached the Round of 16 in the FIFA U20 World Cup in 2019. The young Kiwi side under Buckingham played some slick and scintillating brand of football and instantly won admirers.
The English coach who signed a 2-year deal with the Islanders will be using his preferred formation 4-2-3-1, keeping Angulo as the target man up front. But considering, the positions of foreign players he may use a 4-4-2 system, with Catatau and Angulo playing as the two strikers.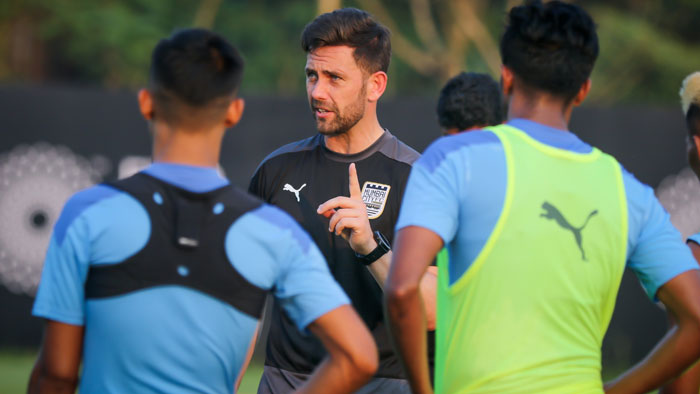 Foreign Contingent
Talented Indian core is equally matched by foreign players. Presence of players like Mourtada Fall, Ahmed Jahouh and Igor Angulo who are very well suited to Indian conditions with other signings – Ygor Catatau, Cassio Gabriel and Brad Inman.
Strengths
Certainly, the team's biggest strength is their midfield with the depth of players like Jahouh, Raynier, Borges and their star Indian signing Apuia.
Apuia is the player who will have all the light after his consistent performance with the National Team. With 84% accurate passes and 68% tackle success rate he was a huge asset for NorthEast United FC's bright run in the playoff last year and will hope to replicate the same for defending champions this time around.
Another area where the team's strength lies is in the attacking department. With likes of Igor Angulo (Golden Boot Winner ISL 2020-21), Bipin Singh, Gurkirat Singh, Pranjal Bhumij, Vikram Pratap, Ygor Catatau, Brad Inman, the team has enough options upfront to haunt oppositions.
Weaknesses
Certainly, the defence and Asian signing are the areas that aren't much complimented as like midfield and attack. No proper foreign partner for Mourtada Fall. The team's success and failure would be determined by their Indian core of Bheke, Mehtab and Valpuia. 
Amrinder's departure also came as a shocker as club legend signed for rivals ATK Mohun Bagan. With Nawaz and Phurba not playing enough last year, it will be interesting to watch what they have to offer in this title defence.
While Asian signing Brad Inman came as a shocker for many, as he wasn't up to his game either for ATK Mohun Bagan or Odisha FC. Inman clocked 603 minutes with 1 goal and 2 assists last season.
Final Verdict
The overall team is well shaped and has high potential players with many star players like Amrinder and Hugo Boumous switching boats. Things will mostly depend on their defence and Cassio Gabriel (Hugo's replacement).
With other teams upgrading their overall squad from last season, Mumbai has not done the same this season, Lobera's departure will be a huge factor. The title contenders before the start of last season, Mumbai City might be struggling to enter the playoffs this season.
-Nilesh Pandey
Follow us on TWITTER, INSTAGRAM and YOUTUBE. Join our TELEGRAM Channel.