It's been more than two months since Halfway Football bought you the story of Ryan Roy, the aspiring young Indian coach who holds a UEFA B license. Now we are here with the story of another young coach from India who's currently pursuing his UEFA B license from the Football Association of England.
Adnan Syed is a 22-year-old football enthusiast hailing from Maharashtra. Syed, the owner of NextGen Sports academy, kicked off his coaching journey at the age of 16! He joins us to share his journey so far, experiences, achievements, vision, and much more.
Early days, schooling & switch from Cricket to Football
Contrary to many professionals who claim they were not good in studies during their schooling days, the Maharashtra-born boy asserts that he performed well in academics, "I was born in Maharashtra and have been in Pune since my birth. I did my schooling at GG international school (Pimpri Vallabhnagar). I won't say I was a bad student because I did good in my studies."
Like most of the kids then, Adnan too enjoyed playing cricket initially and later switched to football, "I actually loved playing cricket in my early days and through cricket, I started my Sports journey, even in school we had to select a single sport and I was inclined towards cricket, later on in my 6th class I think I switched to football and the reason was only because the cricket team of our school played very fewer matches whereas the football team traveled outside the school for matches every now and then so I switched to football."
He continued the conversation by quoting the role of his brother Faizaan in his journey and how he ended up at Liverpool International academy, "My brother Faizaan Sayed was also at the same school and he was in the football team so he also helped me switch to football and that's how my love for the game began. We played a lot of school tournaments, we played tournaments outside Pune as well, and then when I just passed my class 9 I left the school in order to join the Liverpool international football academy."
Football in Pune – then and now
The 22-year-old coach was asked about Pune football, what went wrong in recent years, and how it can return to its glory days, "Pune is a city where you have loads of talent but due to lack of guidance, lack of exposure the talent goes unnoticed. When I started playing for the school team we played many tournaments throughout the year but there was very little knowledge about stepping up from school football to junior professional football. At that time back in 2014, Pune had 3 professional teams, Pune FC, Bharat FC, and DSK Shivajians. 2 of India's prime football academies DSK Shivajians and Pune FC were also based in Pune. If you look at the ISL picture right now several players are graduates of these 2 academies," he commented.
Adnan continued, "I think Pune football has been unlucky and right now we have no club that plays in the I league. Pune players have to sacrifice a lot of things and move to some other city to play football if they're willing to make it professional. The district league has also not happened in the last 4 years. Due to this most of the players in Pune are forced towards playing the short-sided game of 5a side or 7a side in which In my opinion can Pune has the best possible talent. We saw that with the recent national futsal league where many players from Pune were on every team. I think Pune football needs the right platform, a well-structured league where matches keep happening throughout the year, and most importantly a good team that aims to enter the professional Indian football world."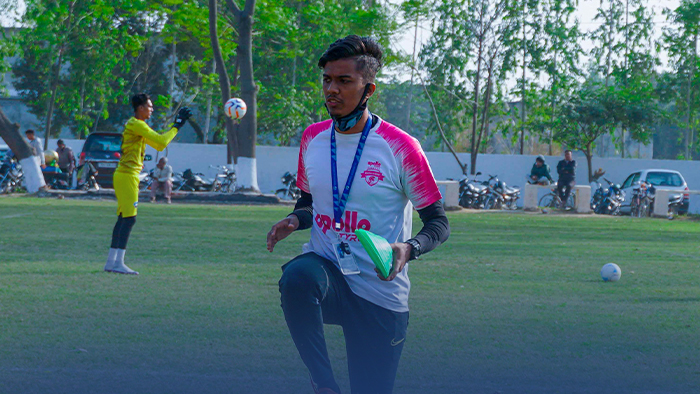 Experiences at Liverpool International Academy
Back in 2014, Liverpool FC International Academy in association with DSK Shivajians launched its first residential program in India. Some of the current ISL players including Lallianzuala Chhangte and Jerry Mawihmingthanga was part of the academy. Adnan joined the academy in 2014.
Recalling his experiences, Adnan expressed, "Like I said I moved to the Liverpool academy when I was 14 and had only played school football before that and had very little idea about professional football. That academy was the best in India without a doubt, the facilities were world-class. The coaches and staff were phenomenal. Coaching staff comprised of head coach Dave Rodgers along with his assistant coach Mike Rice followed by a very strong group of Indian coaches who are all doing really well in big clubs right now."
He continued, "We used to train twice a day, have recovery sessions, have proper meals, we all lived a life of a professional footballer there. I had a great experience, I also got to play in the U-15 I league and U-16 I league and scored a few goals as well. I also was the Liverpool academy player of the month for November 2015. Overall, I can say that everything that I have learned about football is all thanks to my time at Liverpool academy, the foundation for my coaching knowledge and my philosophy also comes from my experience at Liverpool academy."
The motive behind going for a UEFA license
Adnan Syed was interested in UEFA coaching during his time at Liverpool academy. He and his brother spoke to Dave and Mike (their Coaches) and expressed their interest in the UEFA License when they recommended them to take up coaching certifications and licenses. "Unfortunately for doing the AFC license the age bracket was 18 and I was 16 so I would've had to wait for 2 more years when our coaches told us that the FA licenses can be done once you're 16 so that is how I started with the certifications from UEFA", he added. Syed wanted to work in the UK since his childhood. So at this stage of his career, he thought to go ahead with the UEFA qualification since he thought that it would be a better option!
Starting coaching at a young age
Adnan didn't have any such particular reason. "I think I was playing well but wasn't the best player in the squad. But I was always the one answering the questions Hahaha. I think the coaches again played an important role here, Dave and Mike recommended me to pursue the coaching badges because they thought I had something that could make me a good coach. I think I understood different elements of the game very early, I started to have an interest in understanding more about the tactical side of the football." And that is how he started his coaching journey during his playing day.
Indian football: Current scenario and what needs to be improved
Adnan Syed replied positively regarding the growth of Indian Football. In his view, the most important thing for Indian Football to grow is to have a proper structure, a model where each state has a well-run league, and each state league team has an opportunity to compete and rise to the second division of something like I-League, etc. with the promotion and relegation structure in place from the coming year to make it better. "So the structure is something we're lacking not at the top level but more in the lower level. I think another thing we're lacking right now is in trusting Indian players in key positions. When we look at the ISL, it is very rare to see an Indian player playing as a number 9, or a 10 as most of the teams have foreign players playing in those positions which either force the Indian players playing in the position out on the bench or playing at a position that is not their preferred position therefore in the national team we don't see our 9s scoring," he remarked.
Need for more youth leagues
"I think we're doing well in terms of the grassroots programs that have been started. Obviously, it would take time for all of it to come into account. I think the restart of the U-13, U-15, and U-18 I league is very necessary otherwise we will end up wasting a lot of talent as the boys would have nothing to play for. I think apart from the Hero ISL reserve team league (which is a great initiative)". He believes that there is a need for a U-21 or U-23 I league as well where all teams can compete. as per him, this is really important because after playing the U-18s the next stage is directly the senior team which can be a massive step up for many players and many of them end up not having a team to play for and eventually that is how talent fades away.
Dreams & challenges in the job
As a coach, Adnan thinks that it is important to understand the requirements and needs of different age groups. "When you're coaching a senior team it won't help if you're trying to coach them on certain things that they already know. Paying attention to small details is important but at the same time if you as a coach back your knowledge and understanding and portray that on the field with your players then even if the players are older than you they'd listen to you. Being of the same age as the players at times is really helpful as it helps in having a good connection with my players. If you're players trust your knowledge and ability then the age doesn't matter."
He did share his dream and his look forward after 10 years "Greatest dream as a football coach is managing the Indian National team, and probably taking them to a World Cup. In 10 years I think I would be managing some team in the Top division and also having an academy and player management firm of our own."
Achievements so far & things to consider while developing youngsters
The answer to the questions of achievements was that "I think I've not had any major achievements yet, as a player I think being the Liverpool academy player of the month in November 2015 was a nice little achievement than captaining the Fateh Hyderabad u18s in the I league was very special to me. In my coaching journey so far winning a couple of tournaments with the Delhi FC team and working alongside experienced coaches like Surinder Singh and Anwar Ali Sr."
In his perspective, every coach has a different philosophy and a different understanding. "To develop an individual player firstly the most important thing is for him to play, and have to game time that is something that I've noticed no matter how many hours you spend on the training pitch at the end of the day if you're not playing matches you won't really improve. It is important for the coaches to understand that we have only got to guide them and provide them with the tools and the rest of the development will happen. Sometimes coaches try to completely change the way a certain player plays which hampers their development." He also put on that a lot of coaches emphasize physical traits, and less emphasis is given to the tactical side. For him, coaches should emphasize on improving a player tactically.
Bridging the gap between foreign coaches
Adnan doesn't really think it is in the hands of coaches. He thinks that the Indian coaches can manage the teams in ISL and I-league. He did mention how Khalid Jamil managed the Northeast United team to their semifinals. "Even in the I-league, there are several coaches that have been managing sides for years and have the experience to manage them. I think the coach education system now is well structured we are having many coaches now it's just about trusting them with the jobs. We need to put trust in Indian coaches to manage teams obviously," he concluded.
Follow us on TWITTER, INSTAGRAM and YOUTUBE. Join our TELEGRAM Channel.