Sandesh Jhinghan is now officially an HNK Sibenik player. He was officially announced by the club on Wednesday evening. This is a much-anticipated move as all the eyes will be on Croatia from now on. He has signed on a one-year contract with an option to extend for another year.
A quick look into his past. Sandesh Jhinghan is a Minerva academy product which is owned by Mr. Ranjit Bajaj. He was signed by Kerala Blasters in the inaugural season of the Indian Super League. He impressed everyone and went onto win the Emerging Player award at the age of 20. He quickly established himself as the first choice Centre Back in the Indian National team.
In the 2016 season, he played as a Right Back for Kerala Blasters because both the Centre Back spots were cemented by the two highly experienced overseas Centre Backs. He played an important role in the team's run to the Runners Up medal.
In a heartbreaking move away from the Blasters in 2020, he joined ATK Mohun Bagan. Few other clubs like FC Goa and some overseas clubs had offers for him. But as the reports say, at that time he couldn't make a move abroad due to the pandemic. So he settled down with a move to ATK Mohun Bagan where he signed a five-year deal and became the highest-paid Indian player in the league.
In the contract signed with ATK Mohun Bagan, he had a clause that if a foreign offer comes, the player can terminate his contract to pursue a move abroad. The same could be exercised here as Adriano Savalli mentions about a free transfer in his report.
1.HNL and HNK Sibenik
HNK Sibenik is a Croatian club that plays in the 1.HNL, Croatian top tier. The league consists of 11 teams. The top spot gives you the UCL Qualification spot while the second and third spot gives you the Conference League qualification spot.
HNK Sibenik secured promotion after 6 years by winning the 2.HNL (second division) in the 2019-20 season. In the comeback season, they finished 6th in the table. It was a 10-team league then.
Current situation of the club
The league games have already started. Out of the four games so far, the club has only managed to get 1 point. They have conceded 8 goals and scored only 2 so far. In terms of goals allowed, they are second-worst and in terms of goals scored, they are the worst so far.
Currently, they are sitting in the 10th position. Just one spot above the relegation zone.
Game style
The newly appointed coach Mario Rosas has found it difficult to implement a style so far. Maybe that's why the club's position in the points table is justifiable.
The possession stats have generally been in the range of 40-45%. The average possession is 50.25% thanks to a game against HNK Gorika where they held about 66% possession. In terms of average possession, the club currently sits on 6th. Last season they were last in this chart with 43%.
The stats and all suggest that the gameplay style has not been possession-based. But unlike last season, it's not the all-out defense strategy, which generally suits Sandesh Jhinghan better. Last season HNK Sibenik was last in the passing, crossing and possession charts. But they topped the tackles, clearances and other defensive stats. They also had the second most number of dribbles completed (per 90). These stats are pure of an all-out defensive side!
However, judging the system of an entirely new manager based on 4 league games doesn't justify much except mere speculations.
Players at Sandesh Jhinghan's position
According to Transfermarkt, HNK Sibenik has as many as 7 Centre Backs with them. Ranging from age 19 to 34. It's been said that two of them have not joined yet. The reason could be the expired contracts.
Out of the 7 CBs shown, 2 of them have contracts expired while one is a youth academy product.
In this season so far, they have used 4-man back. Where Karlo Bilic and Stefan Peric are the starting Centre Backs. Ivica Batarelo, who was statistically their best CB last season, starts at RB. And the 30-year-old Josip Kvesic starts as the LB.
24-year-old Austrian Stefan Peric has just signed a 4r deal which will run until 2025. Batarelo is also on a contract running till 2024. Which suggests that the club is trying to build a team. Even in case the offer comes, they lure a huge amount of money.
However, by the looks of things, the defense currently lacks organization and communication. They badly need these things to sustain themselves after a horrendous start to the season.
Sandesh Jhinghan is someone who is very vocal and is very good in terms of defensive organization and communication. That's exactly what the HNK Sibenik defense lacks currently. They must be keen to have a profile like Sandesh Jhinghan with them.
Sandesh Jhinghan could also improve the aerial and ground duel numbers. Which are, I think, a bit low keeping in mind the team whose first intention is to defend.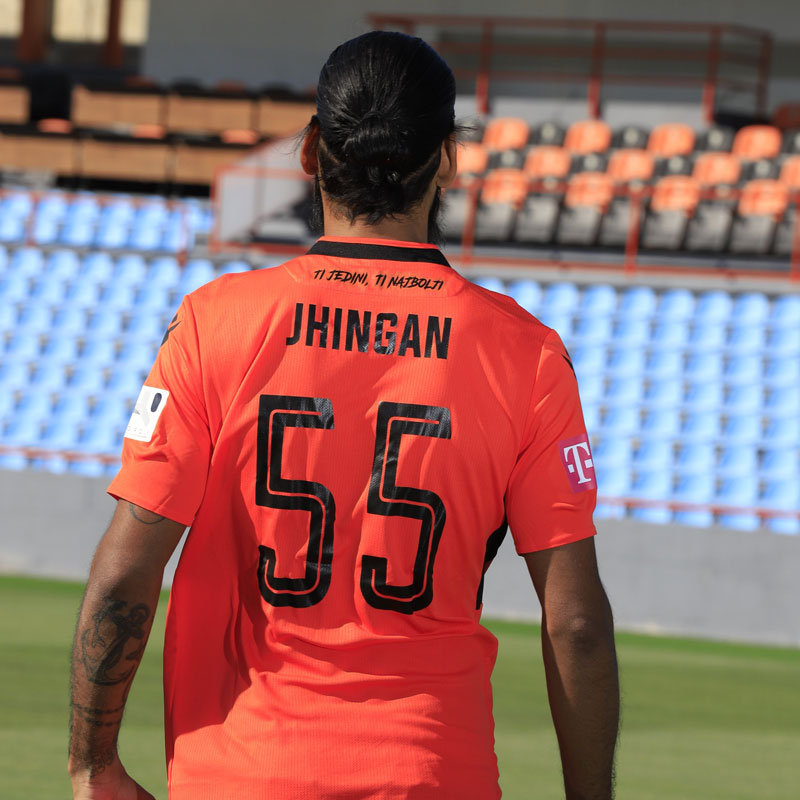 Final thought (Conclusion)
Sandesh Jhinghan will sign for HNK Sibenik not only for a sporadic role. He will be signing for the team as a great option at the back.
The competition for Sandesh Jhinghan is not that big as expected. Judging by the profile of Sandesh Jhinghan and what HNK Sibenik needs, he could be a straightaway starter after few games.
We should not expect a starting role at this point of time straight away because he is new to the continent. He will need time to settle there in Europe. Yes, we should expect him to get preferred over other options after he settles down.
Watching Sandesh Jhinghan play against the likes of Dinamo Zagreb is going to be a thing to watch out for! Maybe he can even impress some scouts and get his signature wanted by some bigger clubs.
Game-time is assured! Hopefully, the deal goes through and he makes his name.
Follow us on TWITTER, INSTAGRAM and YOUTUBE. Join our TELEGRAM Channel.