The ISL entry drama of SC East Bengal has been one of the most dramatic off-field stories in Indian football in recent years. Last season, they didn't get to plan early with the signings as the announcement of them entering ISL was very late and by then, most of the players already had found their new destinations. This time too, the announcement was made just two days before the end of the transfer window. However, they managed to sign over 20 players inside those two days. Signs were clear that they had their targets locked. They just had to wait for the official statement. Keeping aside all these off-field dramas, Halfway Football takes a look at the on-field expectations from this new-look side in the 8th edition of ISL.
Head Coach and Preferred Formation
Before the start of the new season, SC East Bengal had finalized Robbie Fowler as their head coach. Who signed a two-year contract with the club. However, the club parted ways with him and appointed former Real Madrid Castilla manager Jose Manuel Diaz.
When we dive into his goals scored, goals conceded and points per game numbers, he is superior to both Habas and Sergio Lobera. Any East Bengal fan would love to see these stats. But at the same time, these are different leagues and it's very unfair to judge any manager based on points per game stats.
Being someone who is closely related to Real Madrid, 4-3-3 looks like the most expected formation from him. But, we can expect a formation like 4-4-2 considering two foreign strikers who have joined the team.
Foreign Contingent
The club hasn't retained or was unable to retain any of the overseas players from last season. Antonio Perosevic, Daniel Chima, Darren Sidoel, Amir Dervisevic, Tomislav Mrcela, and Franco Prce make up the foreign contingent of SC East Bengal for this season.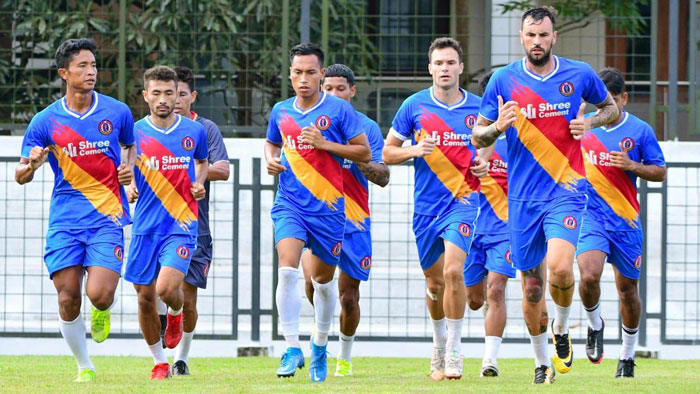 Strengths
One of the biggest strengths is that they can surprise the opponents. Manuel Diaz can do what Manolo Marquez did with Hyderabad FC last season. They have a creative forward like Antonio Perosevic who can play at multiple positions and adds as a creative option in the frontline. He can used just like Cleiton Silva gets used at Bengaluru FC.
Amir Dervisevic is another very creative player who generally operates in midfield. He can play as a Central Midfielder who strengthens the deeper part of the midfield. His profile looks pretty awesome.
East Bengal has also roped in two very exciting Left Backs prospects in the name of Hira Mondal and Sarineo Fernandes. Also, East Bengal finally found the Indian players who are defensively solid. They have signed the likes Amarjit Singh and Adil Khan who strengthens the deeper.
Weaknesses
Wing-backs don't look convincing. Maybe due to the lack of experience? They have Hira Mondal, Ankit Mukherjee, and Sarineo Fernandes as primary options for the full-back positions. Some of them are exciting prospects but that area is most likely to be exploited the most by the opponents.
Lack of creative players can also become one of the concerns as only Amir and Antonio have creative credentials with them. Considering that there will be a reduced number of overseas players in the team, they may struggle in this aspect. Also, they don't have any domestic player who can take the creative responsibility into their hands.
𝐁𝐀𝐓𝐓𝐋𝐄 𝐑𝐄𝐀𝐃𝐘 ⚔️

Here's our 𝘀𝗾𝘂𝗮𝗱 for the 2021/22 Hero @IndSuperLeague season ⚽️.#JoySCEastBengal #WeAreSCEB 🔴🟡 pic.twitter.com/mfYa5Oso5E

— SC East Bengal (@sc_eastbengal) November 8, 2021
Final Verdict
They may not be primary contenders for the trophy or the playoff spot but this team has the potential to surprise us like Hyderabad FC last season, courtesy to the capabilities of their head coach. If they want to put themselves as contenders, youngsters in the team will have to step up.
Follow us on TWITTER, INSTAGRAM and YOUTUBE. Join our TELEGRAM Channel.