FC Goa's Nongdamba Naorem is one of the rising stars of Indian Football and is known for silky smooth dribbling skills. With his quick dashes, slick dribbles, and deft movements, the 22-year-old Manipuri winger has made a name for himself in Indian football at such a young age. He also played in the FIFA U-17 World Cup, which was hosted in India in 2017, and was a crucial player in Mohun Bagan's title-winning season in 2019-20. 
In an exclusive conversation with Halfway Football, the 22-year-old midfielder discussed his early days, career, U17 World Cup, and more. Scroll down to read the interview.
When did you realize you had a footballer in you?
I realized that when I was at Sainik school before that when I was a kid I used to play all the seasonal games like when it's cricket time we played cricket and football in football time. I realized my talent when I was in 6th standard at Sainik school, I used to play with my friends and suddenly a spark came to me and I realized I had the talent.
Is it true that your family wasn't interested in football and wanted you to concentrate on your studies? How did they react when they found out you had been selected to represent the country at the U17 World Cup?
First, when I told them that I wanted to pursue a career as a footballer, they were shocked and weren't happy about it but my father told me I can do it if I wanted to. There were not interested when I first told them when I was 13. After getting selected for the probable squad for the World Cup they were happy and knew that I could become a professional.
How did you feel after being named in the squad for the U17 World Cup?
The time before the 21 men squad was announced, was one of the scariest moments of my life. We were in the world cup squad for around two or three months and traveled to different countries to play but when the world cup is 5 or 6 days and then you come to know that you're not in the squad it would be heartbreaking. When I came to know that I was going to play in the world cup. I was very happy, I felt out of this world. I called my parents and told them, they were also happy. Knowing that I would be playing in the world cup in 5 or 6 days made me feel like the happiest person in the world.
How much have you changed from the player who played in the U17 World Cup to the player you are now?
It's almost been five years since I played in the world cup. There are a lot of changes, I learned how to be more professional and I've become mature. I am willing to learn more.
Your goal for the Indian Arrows, where you dribbled past six players, is considered one of the most amazing goals ever scored by an Indian player. What were your emotions when you scored that goal?
In that match, I came in as a substitute. I was thinking of passing when I got the ball then suddenly my instinct told me to just dribble and go. After putting the ball in the net I was asking myself if it was real or a dream. I was overexcited and I felt good and confident after that.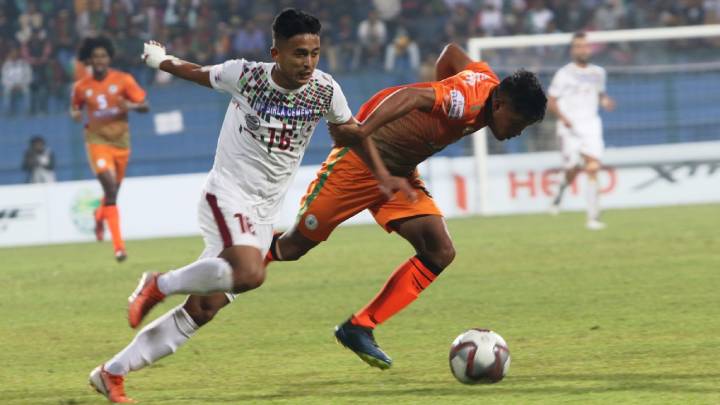 Your time with Mohun Bagan in 2019-20 must have been the most memorable of your career. What was it like to play for such a prestigious club and be a crucial player in winning the title?
I thought playing for Mohan Bagan would be very difficult for a young player. Senior players who played for Mohun Bagan and East Bengal told me about the pressure. I was scared of what the fans would think if we don't perform well, the fans there are very passionate about football. Things went well that season, we won almost all the games in the I League. I was in the first eleven in all the matches. As a young player, playing for a club like Mohan Bagan and winning the title is probably the best moment of my career so far.
You've stated that Kibu Vicuña is the best coach you've played under. How influential was he in your career?
Coach Kibu was one of the best coaches I've played under. During the U17 world cup time Luis also helped me to improve as a player, the confidence he gave me was helpful. When I joined Mohun Bagan, I was a little immature. Kibu was the one who guided me and the confidence he gave me to play my style helped me a lot. The thing I like the most about Kibu is that not only he is a good coach but also a good human. Even off the pitch, he taught us how to be good human beings. He was very helpful in my career and I am very grateful to play under him.
Eight of the 21 players in the U17 World Cup team were from Manipur, and 43 Manipuri players are currently playing in the ISL for various clubs. With so many excellent players, Manipur is undoubtedly one of the powerhouses of Indian football. Can you tell us a little about Manipur's football culture?
In Manipur everyone is crazy about football, if someone goes to a village in Manipur they'll see kids playing football, small-sided games. We have lots of talents in Manipur. After the world cup, there was a big revolution, parents started realizing that their kids can become footballers and can play in big tournaments like the world cup. I League clubs Neroca FC and Trau FC provide opportunities for the local talents in Manipur.
You weren't fully fit when you first arrived at FC Goa's training facility, but the coaches and physios at the club assisted you in your rehabilitation, and you gradually returned to full fitness. Could you tell us a little bit about the rehab process?
After the surgery, I did my rehab in Chennai and I was in Chennai for around three and a half months. I was not able to do it properly because of the second wave of the pandemic. I couldn't use all the facilities because of that. After three and half months in Chennai, I was here in Goa. I met Venky sir and physical trainer Javi. I spend most of the time with them in training and gym sessions. Day by day it got better and after ten months I was back on the pitch. I am very thankful to Venky sir, Javi, and everyone in Chennai who helped me with the rehabilitation.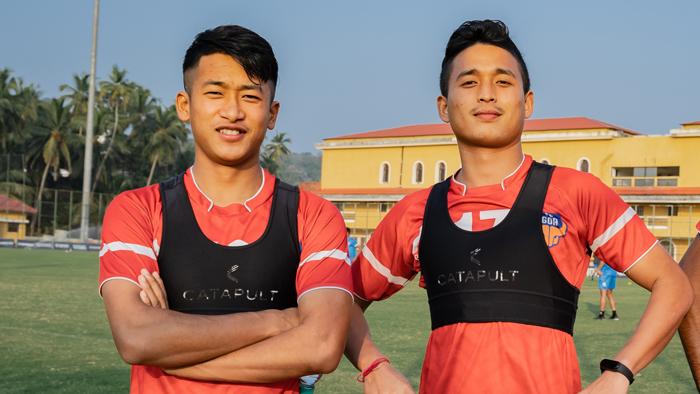 FC Goa's Director of Football, Mr. Ravi Puskur mentioned that your performance at Mohan Bagan had drawn their attention. How did the decision to join FC Goa come about, and how did you feel about it given that you were going through a difficult period at the time?
When I was at Mohun Bagan my agent told me that FC Goa contacted him, I still had a year left on contract with Kerala Blasters after my loan spell in Mohun Bagan but still, they enquired about me. I always knew that FC Goa was interested in me. My contract with Kerala Blasters expired in May and I had a serious injury that would put me out for almost a year. At that time I was worried if I would get a club after that because I had to undergo surgery and wait for a long time to play again. The offer from FC Goa was very good without any second thoughts I signed the contract.
Compared to the last few seasons, FC Goa isn't performing up to the level. From your point of view, what might be the reason behind it?
I can't say a reason. Sometimes in life it happens, we try hard and we don't get the results for it. In football, sometimes things don't go as we expect. All of us are giving our one hundred percent and that is the most important thing.
This season you played a total of 242 minutes. How do you rate the competition to get into the starting XI?
I want to play more games but like I said things don't always go the way we expect. I should keep working hard and perform whenever I get a chance.
What's your take on coach Derrick Pereira. What are the main differences in his style compared to Juan's style?
Coach Juan wants us to press directly but coach Derrick wants us to wait for the right moment when there is a trigger point to press. Possession and attacking wise they are the same, this is the only difference.
You're well-known for your skills. How much has playing with world-class players like Edu Bedia and Alberto Noguera helped you hone them?
Players like Edu, Noguera, and all the other foreigners are helping the team do much and they have a lot of experience. We are learning from them. They are important players in the squad and they help other players grow.
How is life inside the bio-bubble?
Playing football in the bubble is the worst experience in my life, not just me, all the other players, staff, etc all feel the same way. I hope from the next season it isn't like this because it affects our mentality. Hopefully, the situation gets better and there won't be a bubble from next season.
Follow us on TWITTER, INSTAGRAM and YOUTUBE. Join our TELEGRAM Channel.