H16 Sports will be a familiar name among the Kerala Blasters fans. They were the organizers of Kerala Blasters' UAE tour ahead of the 2022-23 ISL season. But, things did not really go as planned due to the FIFA ban on India. 
Hassan Ali Ibrahim Al Balooshi, the Founder Chairman of H16 Sports spoke to Halfway Football in an exclusive interview. Hassan Ali is a former UAE national team midfielder who has played for several clubs in the Middle East. His historic 25-yard goal for Al-Ahli playing against AC Milan is still talked about today. He even had the privilege to train under one of football's greatest stars, Diego Maradona and the celebrated player and coach, Bruno Metsu. 
The 40-year-old spoke about his early days as a footballer, about Kerala Blasters and how FIFA ban affected the pre-season and more. Here are the excerpts from the interview.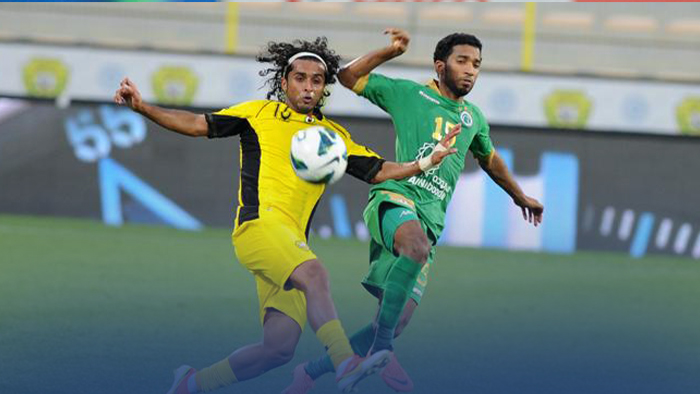 You have played for a couple of clubs in UAE and even had the privilege to train under legendary footballer Diego Maradona. Can you briefly explain about your football journey?
I started my professional football at the junior level and represented the national team, Olympic team, etc. During this period I also had the opportunity to train under Maradona and Bruno Metsu. Had played with Al Ahli for 11 years and also played for Al Wasl, Emirates Club, Al Ittihad Kalba and Hatta Club. After retirement, I was working as a coach.
Tell us more about H16 Sports. What made you to create a company like this and what about its initial days?
Football is always our passion and it is our mission to give grassroots-level training and take up the talents to a higher platform where every kid gets a chance to train football. Now, we have an academy in Kerala, India as we have a big plan for Indian football.
When and how did Kerala Blasters get in touch with the team and how was the discussion with the club?
As we have our roots in India, it was easy to get connected with them and take it forward. I have people from Kerala on our director board too.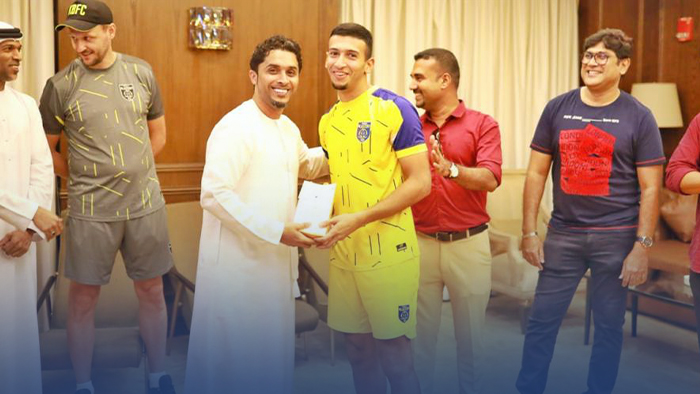 Initially, Hala Blasters tour was planned as 12 days program that included three friendly matches, but due to the FIFA ban, things didn't go as per the schedule. The club played two friendly matches within the period. Even though the tour was extended, they weren't able to play more friendlies. Can you shed some light on things that happened the behind the scenes?
It was quite unfortunate that the FIFA ban came and they couldn't play as planned. The news about the FIFA ban lifting arrived on 26th (August) night. On Sep 2nd, the Pro League was scheduled to begin also on Sep 10th the First Division will also start. So, getting a club for a friendly match at that point of time was very difficult. Almost all the UAE clubs already arranged friendly matches against each other. Also, according to FIFA rules, for playing a friendly against an International club, a club should take permission 14-days before the match. So, these were the main reasons for not getting an opponent for friendlies after the ban. We had everything in place for the pre-season, but I am sure next time they will be able to have a good pre-season tour with us.
Can we expect H16 to organize more pre-season tours for Indian clubs? Other than KBFC, did any other Indian clubs get in touch with the team?
Yes, of course, it's one of our fortes to arrange pre-season and few of the clubs are in touch with us. Hopefully, we will get more clubs for next year onwards.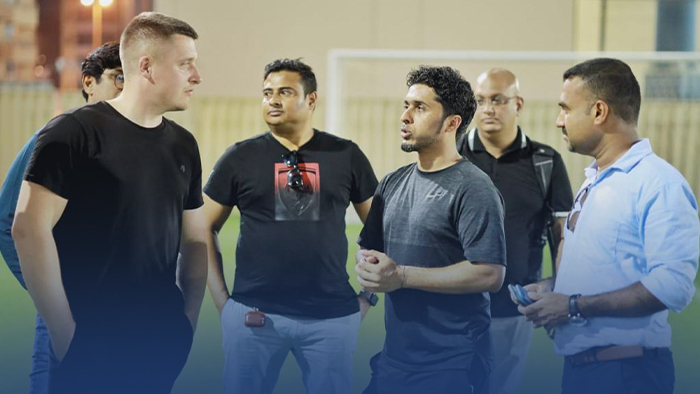 Since you have been interacting with the KBFC squad for a while, watching their practice sessions and matches, what's your take on their performance and attitude? Have any Indian players caught your eye specifically?
I can see the passion and discipline in their entire pre-season training, now they have a good squad and I think this time they are going to bag the victory. There are a lot of good players on their team. Sahal, Rahul, Jeakson, Saurav, Khabra, Gill, and Bijoy are some of the players which caught my eye.
Team Kerala Blasters FC with H16 Sports 🟡🇦🇪📸#KBFC #HalfwayFootball #HalaBlasters #YennumYellow pic.twitter.com/vMd6QmhDWz

— Anson Jaison (@ansonjaison_3) September 12, 2022
H16 Sports have football academies in both Kerala and UAE. The team also arranges pre-season tours for clubs. What are the future plans of the company? Will H16 be looking to start a professional football club or invest in an Indian club?
Yes, we have big plans for India and UAE in terms of the academy and pre-season facilitation. We are also coming up with a football village in Kanthallur, Kerala, which will be a combination of tourism and sports.
Follow us on TWITTER, INSTAGRAM and YOUTUBE. Join our TELEGRAM Channel.