FC Bengaluru United head coach Richard Hood said it's really important for them to play in the Durand Cup before the I-League Qualifiers, which is set to take place in October.
Richard Hood-led FC Bengaluru United is set to debut in the historic Durand Cup tournament. They will face CRPF on September 6. Before their first-ever Durand Cup appearance, coach Richard Hood and experienced defender Dharmaraj Ravanan spoke to the media via a virtual press conference.
When asked about the group they are in, which includes CRPF, Mohammedan SC and Indian Air Force, Richard has a good idea and awareness of his opponents.
"We are not reading in too much into the groups. Since day one, we are trying to develop the tournament mentality to get maximum points. Regardless of who's in front, we will push for nine points at the end of the group stage. The armed forces teams (CRPF and Indian Air Force) train throughout the year. They don't have an off-season as such. They have cohesion because their starting XI doesn't change for three-four years. However, we've had big squad changes over the years, especially from 2019 onwards," said the coach.
"BDFA was an opportunity to see where we were and we've addressed issues by bringing in new players and making changes. Based on the assessment of the group, Mohammedan SC is doing well in the local leagues. CRPF, we have some idea of them while the Air Force comes in as champions of Delhi. By no means are these teams small in reputation in their realms. We are looking forward, to getting exposure and experience in such tough tournaments," he explained.
Here's a look at our group fixtures in our debut appearance at the Durand Cup! 🤝

Can't wait to get started! 🔥#FCBU #WeAreUnited🔴⚫#DurandCup #130thEdition #AIFF #IndianFootball pic.twitter.com/YljsgUAZZo

— FC Bengaluru United (@bengaluruunited) August 25, 2021
FCBU won the BDFA Super Division League in March 2021 and will be in high expectation when they debut in the Durand Cup.
"It's hard to emphasize how important this is. After eight weeks, everybody is coming in with a lot of motivation. It is a very different squad now. We have experienced players who have played at higher levels. Last year, we went into the I-League Qualifiers without any sort of competitive exposure. We estimated our squad only based on our own preparation and not on the competition. We couldn't understand ourselves based on our strengths and limitations and build on that," Richard commented when asked about the importance of the Durand Cup.
He further added, "Just to see exactly where we are, want to test our versatility on the bench and more importantly the winning intent we've tried to build from the time we finished up in Kolkata last year. Nobody is here to drop points. We've brought in players with character on and off the pitch. To put that to test, Durand will be huge for us. Hence, it's really important for us to go and play the Durand Cup before the Qualifiers."
FC Bengaluru United have roped in two strikers Pedro Manzi and Luka Majcen who have proved themselves in the I-League.
"We had addressed what had gone wrong in the previous qualifiers. Aside from regulations due to the pandemic and other restrictions and difficulties to bring in foreign players, we wanted to bring in certain technical qualities to the side. With foreigners, one aspect that I had seen was with that teams that go up with a lone foreigner, the striker gets mucked out easily. All the defensive attention goes to him and those teams tend to have higher Indian scorers. So creating a partnership up front was a big priority for us," said the 34-year-old.
"We looked in the market and spoke to agents for that, we have a lot more technical abilities at the centre with boys coming in from Goa. Overall, we want to play in a certain way with ball dominance and aggression in defence which require leadership and efforts," he added.
With I-League Qualifiers coming after the Durand Cup, which is more important as they have chances of qualifying to the I-League, Richard Hood said that they will not do many experiments in the tournament as he considers it as an important fixture.
"We've done enough of experimentation and rotations in the pre-season, had eight or nine practice matches. Durand is absolutely no platform for us to experiment. Pressure is on us, the coaches to figure out our best XI. We'll share the expectations with players as well that we need three points and have to get the job done. Our only experimentation might be alter the game plan a bit. There are 11 guys on the pitch and that will be our best XI. There will be no large experimentations and other things in this tournament."
"Getting shared experience in an important competition is the fastest way to share cohesion. We have about 270 minutes, guaranteed playing minutes in Kolkata. Just sharing the pressure, walking out together, shaking hands, reading your name in the starting lineup, seeing through 90 minutes, all of this cannot be created in the pre-season. The real competition is where people adapt, we've played enough matches together and we've done everything we can," Richard said.
Here's a look ahead to our I-League qualifiers fixtures! 🔥

Thrilled for the competition that awaits us! 🤝#FCBU #ILeague #WeAreUnited 🔴⚫ pic.twitter.com/1yoAdVqANh

— FC Bengaluru United (@bengaluruunited) September 4, 2021
Richard Hood continued to speak on the I-League Qualifiers and the competition structure, "We have decent numbers. We are looking at 25 fit faces. Compared to last year, we have a lot of squad depth and like-for-like replacements. There's absolutely no doubt or drop in confidence that the person that we bring in to replace another will give us less of a performance. In those terms, the squad is set to see through congested fixtures. It comes down to game management. Within the game, how quickly do we get the lead and how much energy we expend once we secure the lead; all of this counts."
"Once you get into the knockout stages, there's no compromise in terms of getting those three points. Nobody wants to get into penalty shootouts as it takes a mental toll. Even if we do, this is where our experienced players come in. In terms of managing the calendar, we have one day on and another off, we play in the third day. FIFA's five substitutions rule will play a huge role in managing our energy levels. Coming into this tournament, we should get decent conditioning. We have to make sure we are there till the final playing whistle. It's on us to manage, we cannot make excuse in October as we know all these a month in advance. We want to make sure we are successful in every competitive game," he concluded.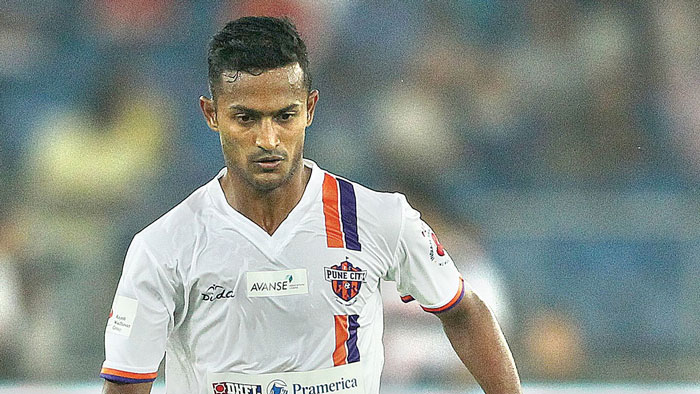 Dharmaraj Ravanan, who joined the team Real Kashmir FC on a short-term deal, spoke about why he joined this club after playing for different clubs in ISL and I-League, "For me, it was an easy decision to join FCBU. In the last four seasons, I've been playing in the I-League. I'm playing only four months in a season and I sit at home for eight months. Hence, when the offer came, I decided to join. More than that, I knew coach Richard Hood and the assistant coach before. I spoke to them and they explained their ideas and what they wanted to achieve. So it was an easy decision."
"I personally think it's an opportunity. As a player, I want to play more matches. I'm already 34 and I have only a few more years to play. I don't want to miss this opportunity. I'm enjoying and learning every day, happy and comfortable with this club. I get a few more extra months in my playing career. If we qualify for the I-League, I will continue with FCBU," he added.
"This year, the club has signed few experienced players. I think this experience will also help me make the right decisions. Of course, off the field, I'll try to talk to the young players, give them my inputs and share my experience. I would like to try to guide them," Ravanan concluded by saying how he can help the team on and off the pitch.
Follow us on TWITTER, INSTAGRAM and YOUTUBE. Join our TELEGRAM Channel.